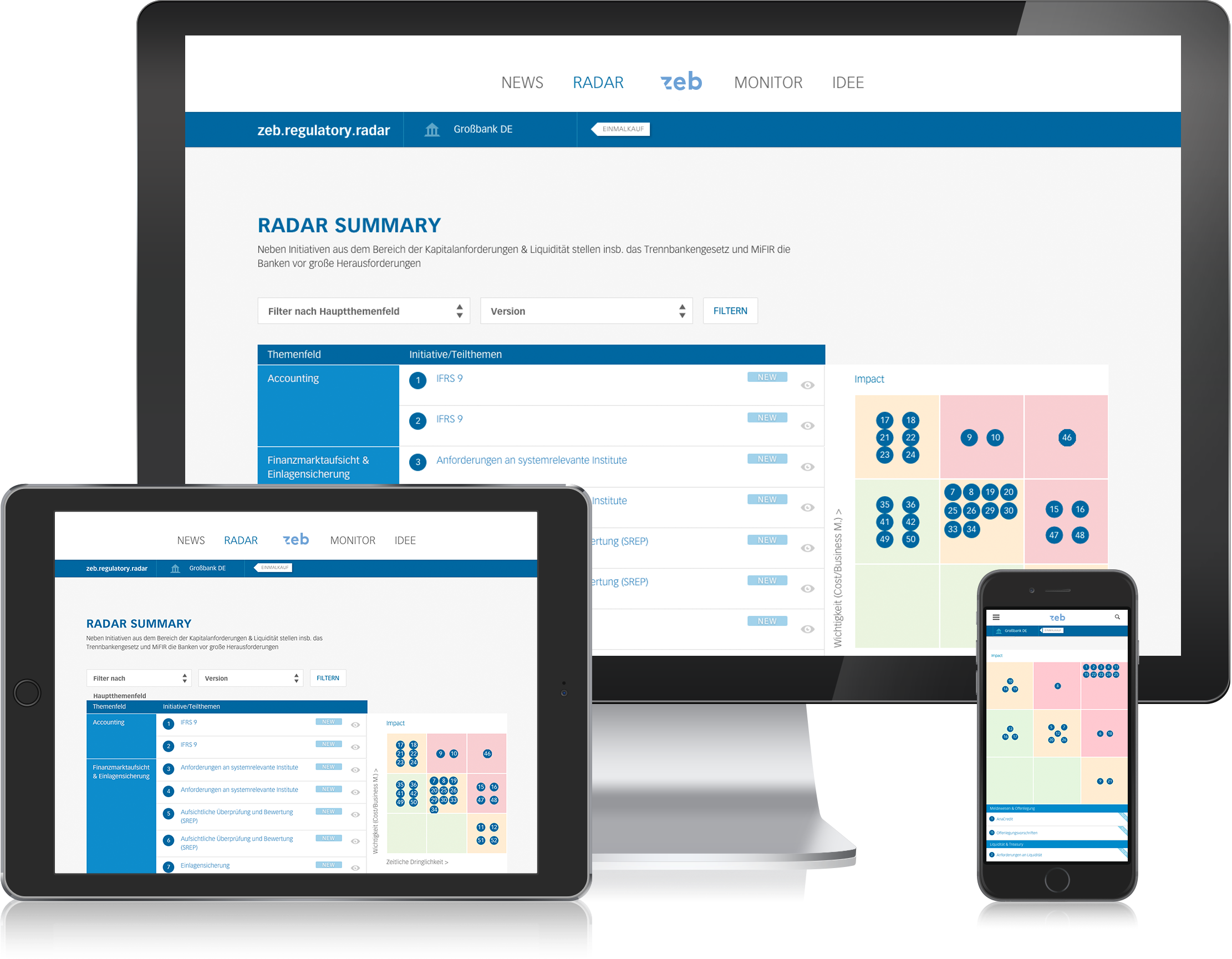 Benefit from our expertise
We sort all regulatory initiatives according to their importance and urgency. We weight and sort content in radar profiles according to the most relevant topics for your company and alert you if there is a need for action.
From more than 1200 initiatives, we filter the ones with the greatest significance for you.
Structuring and sorting according to topic areas that are important to you.
Medium-sized or large bank with focus on Germany or Austria as well as building societies and insurances — we provide relevant information based on target groups.
Thanks to our bank-specific evaluation,
you receive concrete recommended actions for the
DELIVERY OF YOUR REGULATORY ROADMAP.
Christian Schiele | Partner
YOUR BENEFITS
You'll never miss any relevant change in regulations and will always be ready to assess and take action.
NEED FOR ACTION ALERT
We will alert you if there is a need for action on your part
QUICK EVALUATION
Radar information sorted according to importance and urgency
COMPACT PRESENTATION
Quickly digestible information, max. of 30 radar items in the overview
INCREASE BUSINESS SUCCESS
Save manpower and take efficient measures
TAILORED ASSESSMENTS
All assessments are precisely tailored to different target groups
CLEAR SORTING
All items are well structured and ordered
SUPPORT
Support provided by the zeb team is always on hand
ALWAYS UP TO DATE
Regular and frequent updates
DIGITAL ACCESS
The paper chase becomes a thing of the past
MAJOR FEATURES
Clear ordering and weighting of all relevant regulatory measures accompanied by concrete recommended actions.
Sophisticated search and filter functions
You can launch targeted searches for your specific topics.
Clear assessment of relevance
Increased clarity thanks to visual/graphical means.
Quick overview using the preview function
The preview quickly shows you a summary.
Sorting according to importance and urgency
Assessment levels can be grasped at a glance.
All charts are available in PDF format and directly as print versions
Data sheets can easily be downloaded and printed.
What to do when?
Quick answers thanks to status alerts.
TRIAL ACCESS
You know the issues the flood of regulations causes for all areas of a bank or insurance, but you would like a clearer picture of what we offer before you make your decision.
Your benefits:
24 hours
free trial access
Full access
Regulatory news and their impact on your company
360° SUBSCRIPTION
You want to make optimum use of your personnel resources, but always be up to date with all regulatory measures. We will help you keep track of all relevant issues and ensure that you are able to act at all times.
Your advantages:
1 year
full access to the monitor and radar components: regulatory news and their impact on your company
Core contents, short profiles, additional information and impact analyses
presented in a compact, detailed and clear manner
Export and print function as well as tracking of changes
ensure user convenience
Regular analyses
by our Senior Managers and Partners responsible for the relevant topic areas
All-year up-to-dateness
through continuous updates and access to current and archived content at any time
Including architecture
360° SUBSCRIPTION PLUS
New regulatory initiatives may affect specific organizational and IT entities of your bank. We create transparency and visualize the degree of impact of the regulatory requirements that are relevant for you.
Your advantages:
1 year
full access to the monitor, radar and architectural components: regulatory news and their impact on your company
Core contents, short profiles, additional information and impact analyses
presented in a compact, detailed and clear manner
Export and print function as well as tracking of changes
ensure user convenience
Regular analyses
by our Senior Managers and Partners responsible for the relevant topic areas
All-year up-to-dateness
through continuous updates and access to current and archived content at any time
Graphical presentation of potential implementation needs
Visualization of the impact of regulatory initiatives on the organizational and IT architecture