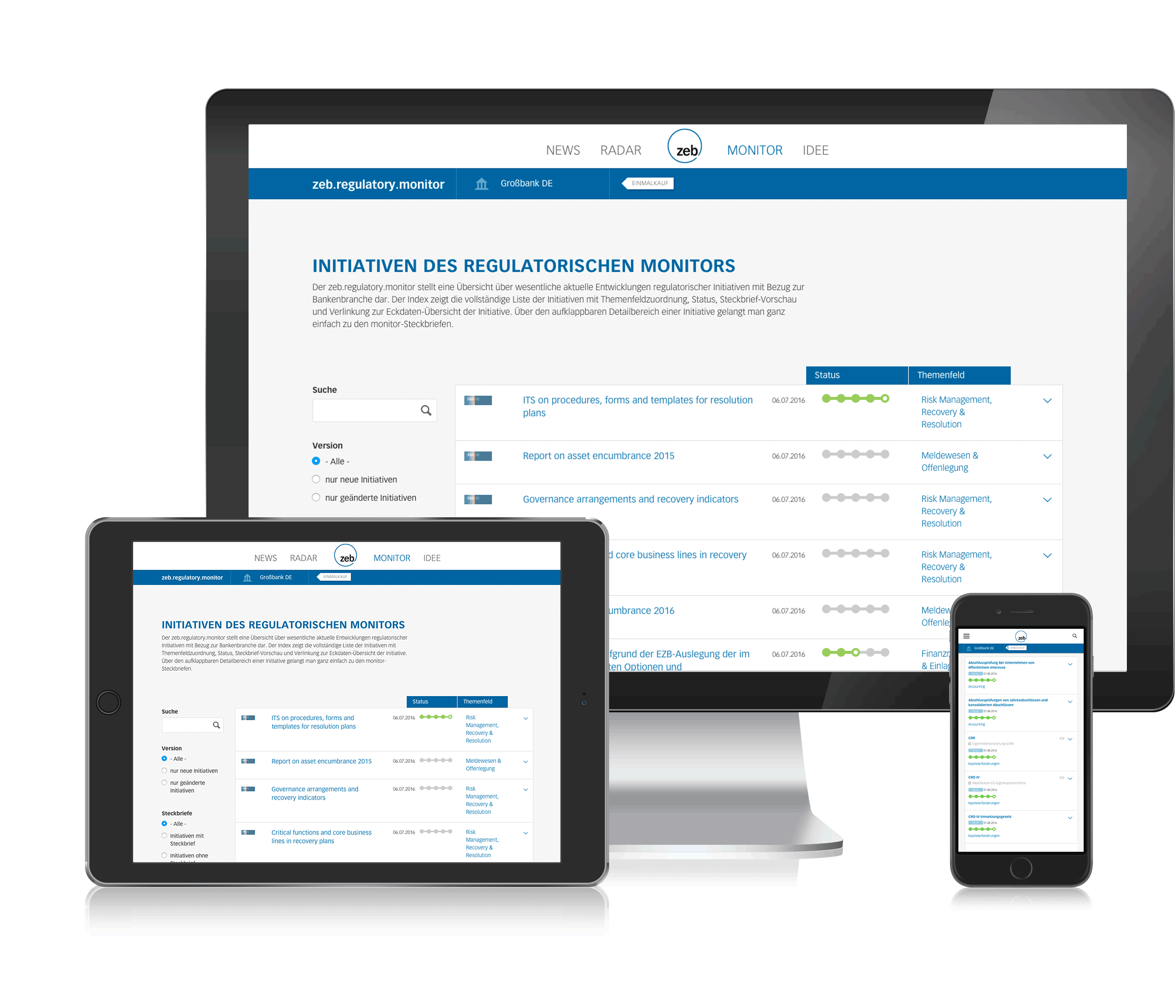 Stay on top of changes
New directives, regulations, laws, circular letters, guidelines—we keep an eye on all relevant topics at all times. We present key content in compact profiles, we sort, we evaluate.
With our monitor, you remain on top of developments.
Our expert teams monitor all relevant regulatory measures at all times.
We summarize core contents of all regulatory changes and measures clearly and concisely and weight them according to relevance.
OUR MONITORING, SUMMARIZING AND
WEIGHTING OF INITIATIVES HELPS YOU
TO STAY ON TOP OF THINGS.
YOUR BENEFITS
We keep an eye on all banking-or insurance-relevant topics at all times.
Compact, chronological representation of core contents of all changes
GREAT CLARITY
All important news 
at a glance at any time
DIGITAL ACCESS
The paper chase becomes a thing of the past
SUPPORT
Support provided by the zeb team is always on hand
COMPACT PRESENTATION
The most important information is summarized for you
WIDE RANGE OF INITIATORS
A large number of international
initiatives is scanned
EXCELLENT UP-TO-DATENESS
All important items 
are presented
MAJOR FEATURES
Thanks to clear and concise presentation, you get a quick overview—and yet detailed information.
Easy-to-understand, intuitive user interface
Highly advanced or only just at the initial stage? The status gives you the answer straightaway.
Sophisticated search and filter functions
You can search specifically for topics affecting your company.
Quick overview using the preview function
The preview quickly shows you what you need to know.
Compact presentation of individual core contents
Monitor profiles provide all key information at a glance.
All charts in PDF format and as print versions
Data sheets can easily be downloaded and printed.
TRIAL ACCESS
You know the issues the flood of regulations causes for all areas of a bank or insurance, but you would like a clearer picture of what we offer before you make your decision.
Your benefits:
24 hours
free trial access
Full access
Regulatory news and their impact on your company
30° SUBSCRIPTION
You don't want to drown in the flood of regulatory requirements, but remain in control and ready to act. You want to get a quick overview of relevant topics affected by regulatory measures.
Your benefits:
30 days
viewing rights for the Monitor/Radar
Full access
Regulatory news and their impact on your company
Core contents, quick profiles, impact analysis
Compact, detailed and clearly structured
Export and print function
Practical to work with
360° SUBSCRIPTION
You want to make efficient use of your available staff, but always be up to date with all the latest regulatory measures. You want to stay on top of all relevant topics and remain in control at all times.
Your benefits:
1 year
viewing rights for the Monitor/Radar
Full access
Regulatory news and their impact on your company
Core contents, quick profiles, impact analysis
Compact, detailed and clearly structured
Export and print function
Practical to work with
Quarterly analysis
Performed by our senior managers
and business area partners
Up to date all year round
Access to current and archived initiatives at all times